At Beal Industrial, you can expect to receive more than access to the largest new and used battery and charger inventory—you'll receive immediate price quoting, stock delivery on all popular sizing, and full turnkey capabilities. We off high performance batteries for your forklifts, pallet jacks and other material handling equipment.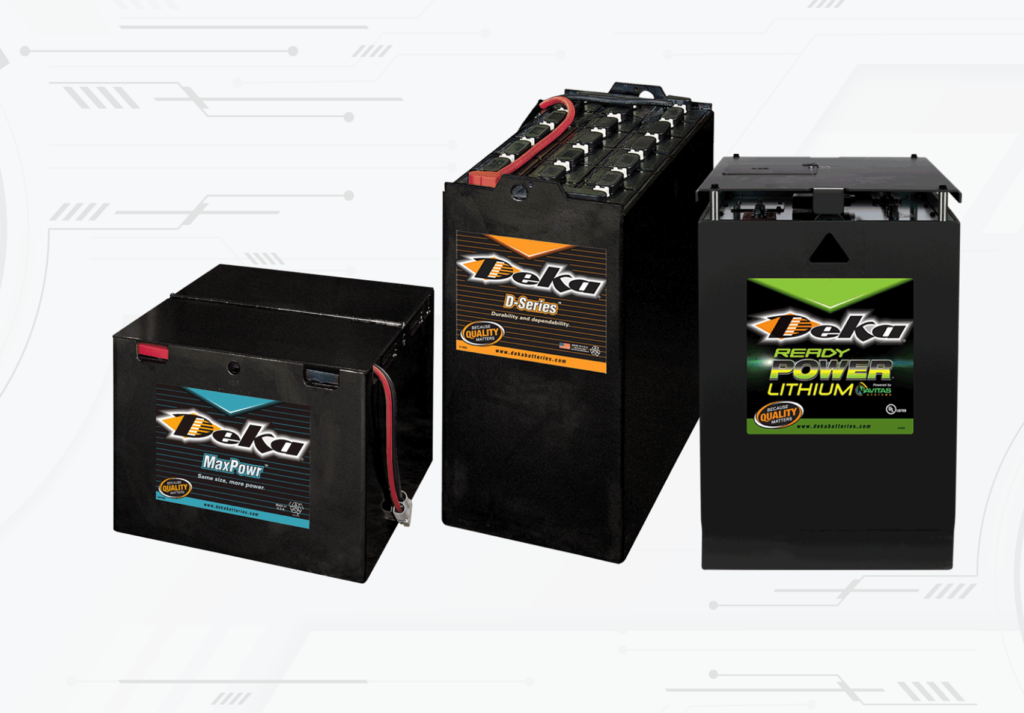 Finding The Right Forklift Batteries
Buying or leasing the right batteries for your forklifts has never been easier. At Beal, we specialize in the sale and service of industrial batteries, chargers and equipment. We believe in reliable power and reliable service which is why we provide only the highest quality batteries and equipment.
We carry a number of battery options to fit a variety of top forklift models. Find forklift batteries for Doosan, Big Joe, Caterpillar, Crown, Komatsu, Mitsubishi, Nissan, Toyota, Yale and more.
If you own or lease forklifts in Maryland or the Mid-Atlantic, we can supply the batteries! Explore our vast selection of forklift batteries and equipment. When ready, contact us to discuss the right solution to fit your needs.
Types of Forklift Batteries
We understand that every company utilizes their forklift(s) differently, therefore they require the right battery to fit their needs. From low maintenance to fast-charge batteries and even lithium-ion, we have a supply of batteries that fits nearly any size or application.
Explore the battery options available to identify which best fits your needs. Not sure which option is best for your forklift utilization? Contact us, our forklift battery experts can walk you through the various options to find what's best for your usage and budget.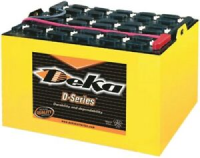 Durable and dependable for almost any motive power application. In addition to its versatility, it is designed to be utilized in both conventional and opportunity charging operations.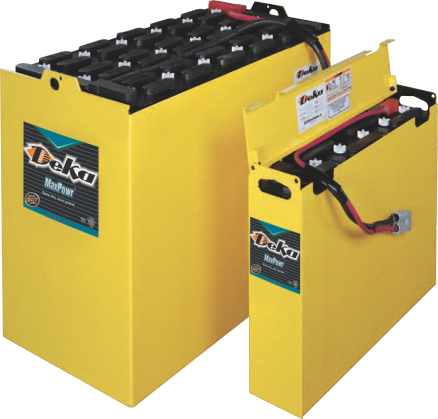 Durable and dependable for almost any motive power application. In addition to its versatility, it is designed to be utilized in both conventional and opportunity charging operations.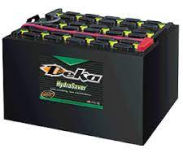 Exclusive alloy combinations and separator material results in less water consumption resulting in watering intervals of ten weeks. Factory installed flip-top vent caps and LED water level indicator simplify maintenance programs.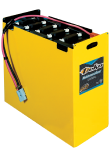 Built specifically for low maintenance applications, it boasts a large reservoir allowing an increased volume of electrolyte. Reduces watering to four times a year under normal operating conditions.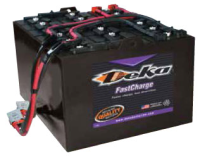 Optimized for electrical conductivity and extended performance, it is built to last longer under rigorous fast charge conditions. Features heavy-duty intercell connectors, copper inserted posts and dual cables and connectors.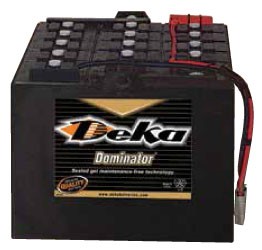 Maintenance-free gel designs to save countless maintenance hours. Designed for either conventional and opportunity charging operations. Spillproof and leakproof.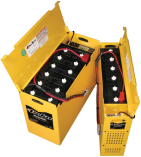 Combines a flooded battery and charger into one unit eliminating the need for remote charging equipment. The charger can be connected into any 15 amp, 120 volt AC outlet for safe and easy charging.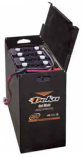 Offers the combination of a maintenance-free gel design in addition to a built-in charger that is compatible with a 15 amp, 120 volt AC outlet. Spillproof and leakproof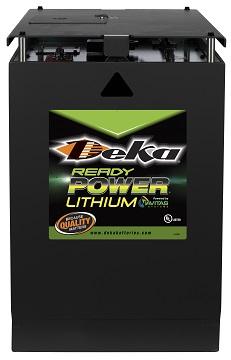 A Lithium-ion battery with high intensity performance that's built right, maintenance-free, and can handle heavy application. Lithium batters can run longer and require less charge time leading to improved overall performance.
Why DEKA for Forklift Batteries?
DEKA batteries are a popular choice for forklifts. They are reliable, and known for their quality and durability. DEKA also boasts a superior total cost of ownership compared to many other battery manufacturers.
If you want a quality battery you can depend on, then choose a DEKA battery.
Forklift Battery Service Options
As a full-service battery servicer and supplier in Maryland, we offer more than just batteries. We offer a number of services to help businesses like yours charge, maintain and get the most out of your batteries.
Battery Rentals
For companies who don't want the upfront cost of buying brand new batteries, we offer the option to lease your battery power. When you lease your battery power, there is no need to worry about maintenance, replacing batteries or the upfront investment of purchasing bulk batteries. Instead, we will handle all of your battery power needs ensuring your organization is always running with optimal battery life.
Battery Surveys
Want an enhanced understanding of your batteries? Beal Industrial comes to you to analyze your battery or batteries, making a complete report of their conditions. What's included is taking voltage and spot gravity readings, and putting these details into a comprehensive report with your make, mode, serial number, age of battery, and visual inspection notes. This better enables us to make a recommendation on whether or not to visit our shop for further evaluation and to potentially have an internal evaluation. We also may recommend coming in for a thorough cleaning and load testing—a full-proof way to determine your battery's length of life.
Opportunity Charging Evaluation
A favorite due to expediency, we now provide opportunity charging evaluations. With easy access to our mount, pull up during your next lunch or coffee break and plug into a battery charger that charges at a high rate to replace lost amperage.
Preventative Battery Maintenance
Beal Industrial is your go-to for preventative maintenance, which we offer to customers once or twice a year, on location, to take voltage and spot gravity readings, providing a report similar to our battery survey. We are proud to be the only company that can offer this type of preventative maintenance.
Additional Forklift Battery Products
Organizations often need more than the forklift batteries themselves. From fleets to warehouses, businesses that utilize forklifts also need the ability to charge, maintain, and change out batteries simply and efficiently. At Beal, we offer more than batteries. We offer everything your business needs to power your forklifts. 
| | | |
| --- | --- | --- |
| We offer battery changing and handling equipment available in a variety of models with many flexible options to satisfy all unique battery handling requirements. | Our battery watering systems are designed to make watering and maintaining industrial batteries easy. | Wash stations help keep your fork lift batteries clean. Stations are available with wood or plastic decking. |